Last night I went to a special concert, FREE for children with Autism and their families, featuring the Utah Opera Ensemble Artists as they performed favorite Opera scenes with the Utah Symphony.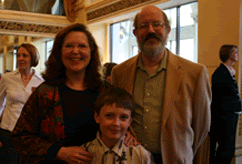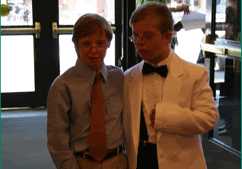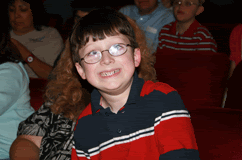 They had a light dinner right of snackables and chips right before the concert.  It was delightful to see the children flood in snatching up the brilliant idea of enclosed peanut butter and jelly sandwhiches.  There were smiles all around on the kids faces on the choice of catering.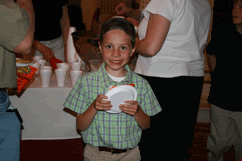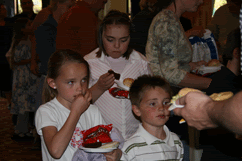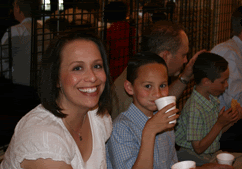 The concert was only 45 minutes, a perfect length for them AND me, consisting of upbeat songs in which the audience would burst out clapping along with the beat as well as highly entertaining opera numbers full of choreography and costumes!  Looking around I watched the children moving around to the music, dancing in the isles, and quite a few even leading the musicians from their own seats and doing quite a remarkable job!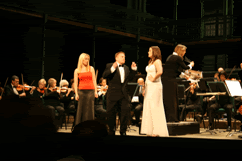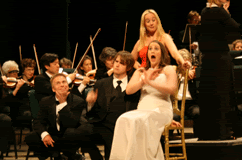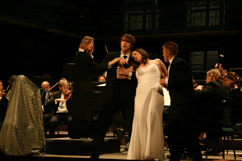 It was also quite impressive to see the Symphony performing on the set that is up for the current Opera, Don Giovanni. The stage is at a slant and so all the musicians were performing crooked, as it were, compared to a normal flat stage.  It was a beautiful set and ambiance for the whole concert.
A couple parents wrote of the concert:
Dear Ms. Fowler, Staff, Musicans, and Singers:
I just wanted to thank all of you for the free performance tonight for children with autism and their families.  This was a wonderful experience that we could have not enjoyed otherwise.  It was so comforting to be able to enjoy the performance with other families in our situation and not have to worry if our son moved around in his seat too much or talked to loudly.  My son, age 11, has always loved listen to classical music, but this was his first time actually seeing it performed.  The look on his face was priceless….even though he is non-verbal, his expression clearly said, "OH, that's how they make this music".  I saw so many children clapping and dancing to the music…..it was heartwarming.  So, thank you, thank you, thank you for giving these children (and their families) the opportunity to experience something fun and new.
Debbie Joplin
South Jordan, UT
I just wanted to thank you and everyone involved with the orginizing and perfect performance last night at Capitol Theatre. Me and my two kids had a wonderful time and from the way all those great kids around us were acting I could tell they were having fun as well. So THANK YOU THANK YOU!!!Trevor Saiz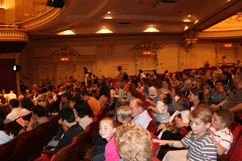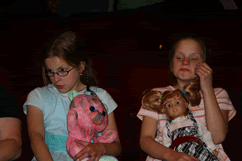 It is wonderful to be a part of an organization that provides children of all ages and their families such an opportunity to catch the fever of the Utah Opera or Utah Symphony when they might not be able to otherwise. 
To support programs like these or catch the fever of Utah Symphony | Utah Opera go to www.utahsymphonyopera.org